Home
News
Widow's Resources
Meeting/Events
Meet These Three
Buy Books
Meditations
Pray For Widows
Contents
Email
Search Our Site
Meet Eddie Edwards
"TRANSITION:
From Widowhood To Womanhood"
Written by
Minister Mary Edwards
ORDER YOUR COPY TODAY!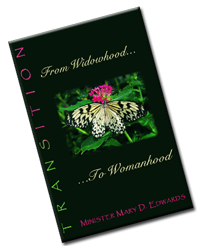 Welcome, my name is Minister Mary Edwards. I have been waiting to hear from you. Please take a look around. We are Widows With Wisdom and we have joined forces to help widows survive and thrive. Take our hand and let us guide you spiritually, emotionally, and in practical matters of life. Together we support one another and strengthen ourselves. Together we are survivors. We are Widows With Wisdom.
---
Click the player below to hear Minister Mary Edwards & Angela Parker interviewed on the Senior Solutions radio program. The subject is "Care Giving & Widowhood."
Be sure to stop the music player on the right sidebar first.
| | |
| --- | --- |
| Click the player button to the right to hear audio.(May take a minute to load) | |
---
There are more than 13.7 million widowed persons in the United States, over 11 million of these being women.
(American Association of Retired Persons 2001)
In 2004 Minister Mary Edwards began her widowhood journey after the passing of Rev. Eddie K. Edwards, founder of Joy of Jesus Ministries on the eastside of Detroit. One month later she established
Widows With Wisdom (WWW) Ministries.
Since that time, she has supported hundreds of widows through this organization.
In addition to helping other widows, she has written four books, plus her autobiography "
Born Grown
." In 2007, she took another quantum leap and launched her book publishing business, Leaves of Gold Consulting, LLC. It is easy to see that she hasn't sat around playing the role of the "Weeping Widow." Even though she enjoyed her 21 year marriage to the distinguished Rev. Edwards, you will often hear her say, "He's gone, but I'm still here and I can do GOOD by myself." Indeed, she has.
Come out and hear Minister Mary Edwards share her motivating testimony and discover WHO YOU ARE! You are more than a widow!
Also hear other riveting testimonies from widows associated with this dynamic ministry.
www.widowswithwisdom.org
DATE
: Saturday, April 20, 2013
TIME
: 1:00-3:30 p.m.
PLACE
: The Lighthouse
19940 Livernois Avenue
Detroit, MI 48235
RSVP
: (313) 744-MARY (6279)
There is no cost to attend this meeting, but a love offering will be taken.
Widows are one of the most under-served populations in the world.
---
*WIDOWS WITH WISDOM*

On July 25, 2004, I, Minister Mary Edwards, became the widow of Rev. Eddie K. Edwards,

founder and president emeritus of Joy of Jesus Ministries in Detroit. The day after the funeral I found myself standing in the middle of my living room asking myself (or God), "What do I do now?" I had so many questions and so few answers. I'm sure the reply to my question was from God because He called me by name:

"Mary, I want you to start a ministry for widows such as yourself. It shall be called, "WIDOWS WITH WISDOM."

In August 2004, "Widows With Wisdom" (WWW) was launched in my living room.

Presently, we hold monthly support group meetings with an attendance of 15-20 widows from Metro Detroit and surrounding communities. Meetings are held on the third Saturday of the month throughout 2010, from 1:30-3:30 p.m., At The Lighthouse, 19960 Livernois, Detroit, Michigan 48221. Thanks to New Prospect Missionary Baptist Church.

To date we have touched the lives of countless widows. They have either attended our monthly meetings or have had contact with us by telephone or Internet. They are from all parts of the country and the world. Many have asked about the possibility of starting their own support group. There are 147,000 widows in Michigan alone. Please know that I am willing and available to help you launch this very critical outreach. You can reach me by phone: (313) 744-MARY (6279) or by email: Leavesofgold.llc@gmail.com

.

We have a resource handbook for widows called, "TRANSITION: FROM WIDOWHOOD TO WOMANHOOD." This dynamic tool contains information and testimonies from widows who are in the process of moving FROM WIDOWHOOD TO WOMANHOOD.

© 2007 - 2012 Widows With Wisdom - His Lovely Wife Ministries
WHAT'S YOUR STORY??
We all have a story, what's yours? If you would like to share your story to help uplift, encourage and to motivate; please email me and shortly after your story may appear on this website.
Thank you in advance.
Please keep it short if possible.
Inspirational Reading
Gods Grace Bubble
Christian Ways to Reduce Stress
What to Say When Someone is Grieving
Who's Who In Black Detroit
---
Contact Us
Telephone
(313) 744-MARY (6279)
Mailing Address
Widows With Wisdom
c/o His Lovely Wife Ministries
P.O. Box 211018, Detroit, MI 48221
Listen to an Interview with,
Minister Mary Edwards
Your Friend & Founder of
Widows With Wisdom
| | |
| --- | --- |
| Click the player button to the right to hear audio.(May take a minute to load) | |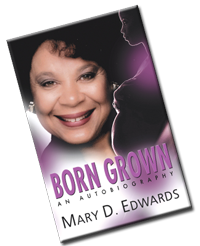 ORDER YOUR COPY TODAY!
Born Grown
by Minister Mary Edwards